Connecting the dots for those of you contemplating the use of Sembly (former Powow) for your organization. How can a meeting augmentation solution provide teams huge benefits while creating a sustainable competitive advantage for your organization?
One of the benefits of using Sembly in your organization is being able to physically attend fewer meetings because you can rely on Sembly to provide easy access to meetings content accurately and rapidly.
Sembly (former Powow) operates on a SaaS technology stack that allows enterprises to gain both immediate and long-term value from meetings in a way that was never possible before. This stack works with Zoom, Microsoft Teams, Google Meet, as well as other leading providers. The technology that Sembly AI uses to make this happen is comprised of 6 building blocks that are working in unison to assemble and maintain a powerful new asset for the corporation – the Meeting Cloud. These include:
The audio recording – Replaying the audio in a meeting is a clear reflection of the conversation. We see this as the System Of Record (SOR) which is continuously referenceable for content validation if required.
The Transcription – Three key points:

Sembly AI produces transcriptions with a low Word Error Rate (WER) using its proprietary engine. It provides input to Machine Learning models and establishes a foundation for capturing patterns across meetings.
Sebmly offers a custom dictionary that allows non-English words and acronyms to be transcribed correctly.
The more meetings an organization has the better the quality of its ML-generated results. Of course, the improvements in WER and ML modeling techniques enable better insights for that organization including context-sensitive understanding of meetings.
Phrase Recognition – Phrases that are automatically identified by the Sembly Machine Learning models. At the end of a meeting, context-sensitive Issues, Actions, Questions, and Requirements are listed for a post-meeting attendee to review rapidly. When you select a phrase Sembly allows you to go directly to the part of the conversation in which it was said making meeting review rapid and effortless.
Sentiment – Keeping a pulse on meeting sentiment and engagement in the individual meeting, the team, and cross-organization levels provide valuable proactive anonymized insights to enterprise leadership.
Summaries – Post meeting abstractive summaries provide a list of meeting items covered so that key points are not missed. All meeting points can be edited and new points critical to the meeting leader agenda can be appended and prioritized.
Meeting series analysis – Cross meeting and metadata information continuously enables leadership to proactively manage the business by gaining early insights into Risk, Cross organization sentiment, and other data elements that are identified by the machine learning tools that Sembly (former Powow) deploys.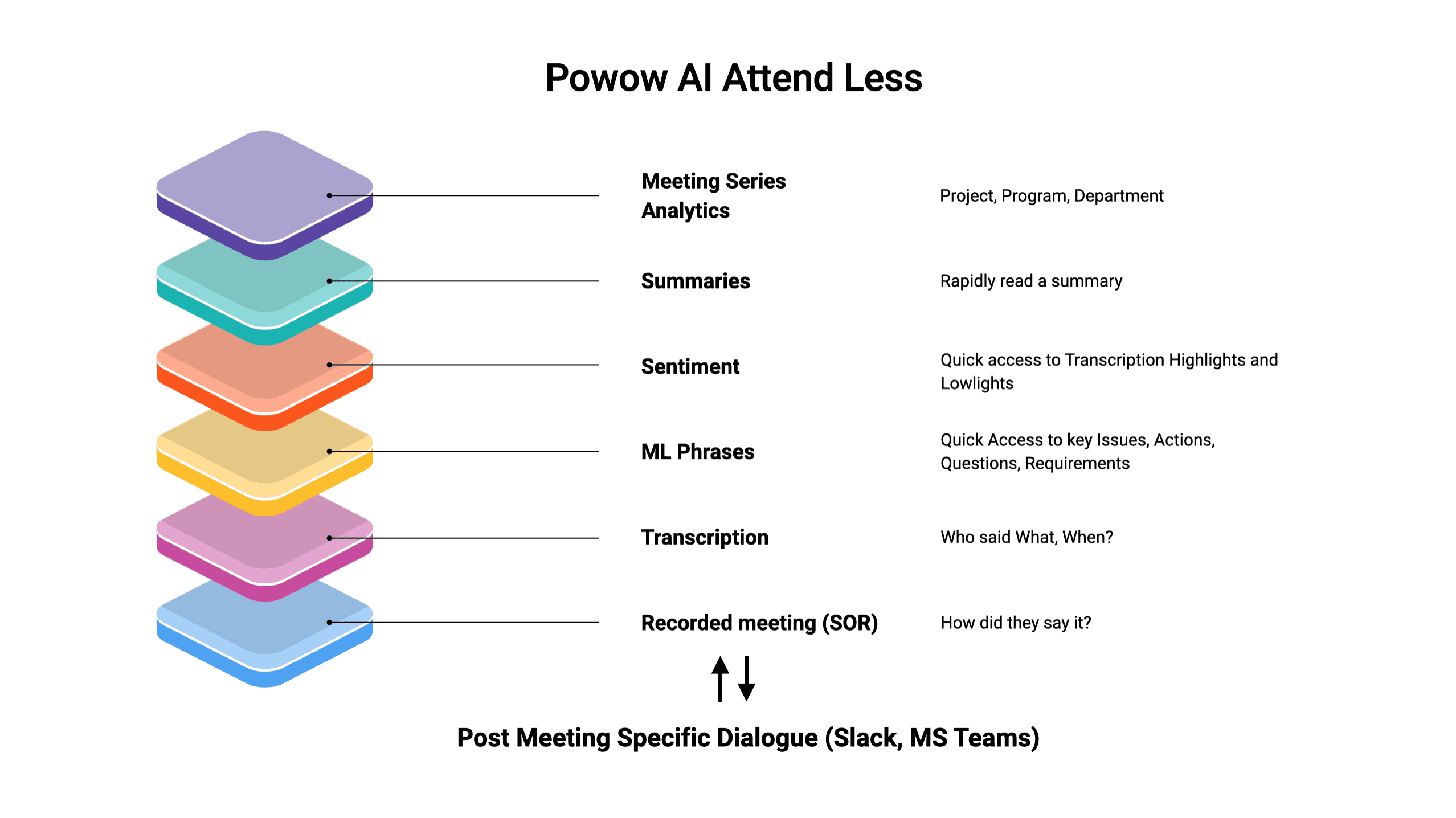 In combination, the 6 building blocks are fundamental concepts that will make using Sembly AI a must-have for organizations by enhancing enterprise meeting persistence through continuously adding new meetings to the enterprise Meeting Cloud and learning from them.
This provides value to enterprise teams by enabling:
Navigating rapidly through key points post-meeting – automatically identified actions and issues, questions, and sentiment highlights and lowlights help navigate meeting content to observe critical meeting moments.
Proactive identification of risks and issues across the meeting landscape.
Precise communication with others in a succinct manner for rapid decisions – Once topics of interest are identified by a post-meeting viewer starting a dialogue around a moment in the meeting with a colleague using your enterprise chat tool.
Building your Enterprise meeting Cloud to gain competitive advantage.
A good way to think of the Sembly value is across three dimensions:

While Sembly's SaaS technology provides the near-term value it is also building an enterprise Meeting Cloud that provides more strategic value as the number of meetings in the cloud continues to grow. For example, 'Oracle' is a Sembly AI technology that enables enterprise leaders to ask a question and receive information across meetings.
Sembly responds based on meeting discussions rather than reporting data, offering leadership an opportunity to react more swiftly to enterprise challenges.
Companies not developing their Meeting Cloud with Voice Technology today are setting themselves up for an uphill battle when competitors in their sector deploy the technology for competitive advantage.