We are excited to introduce the Special Holiday Edition interview with Sembly AI Founders Artem Koren and Gil Makleff
The Sembly AI Team wants to wish everyone a happy holiday season and a great start to 2022 🥂🎄
In this edition Sembly AI founders Artem and Gil share their experiences and thoughts for 2021, and also exciting features and future plans coming from Sembly AI in 2022.
At Sembly AI we're completing an awesome year in many respects including the introduction new features. There is even more awesomeness coming up for next year. Really, really interesting product technologies, partnerships, and we are looking forward to sharing some of that with you.

Artem Koren

❄️ Chief Product Officer and Co-founder of Sembly AI
How Sembly AI got started 🚀
Gil shares his thoughts on starting Sembly AI together with Artem.
Process of transformation, includes starting and identifying a current situation and then looking to the future and saying: "What would be an amazing vision of versus the current situation?"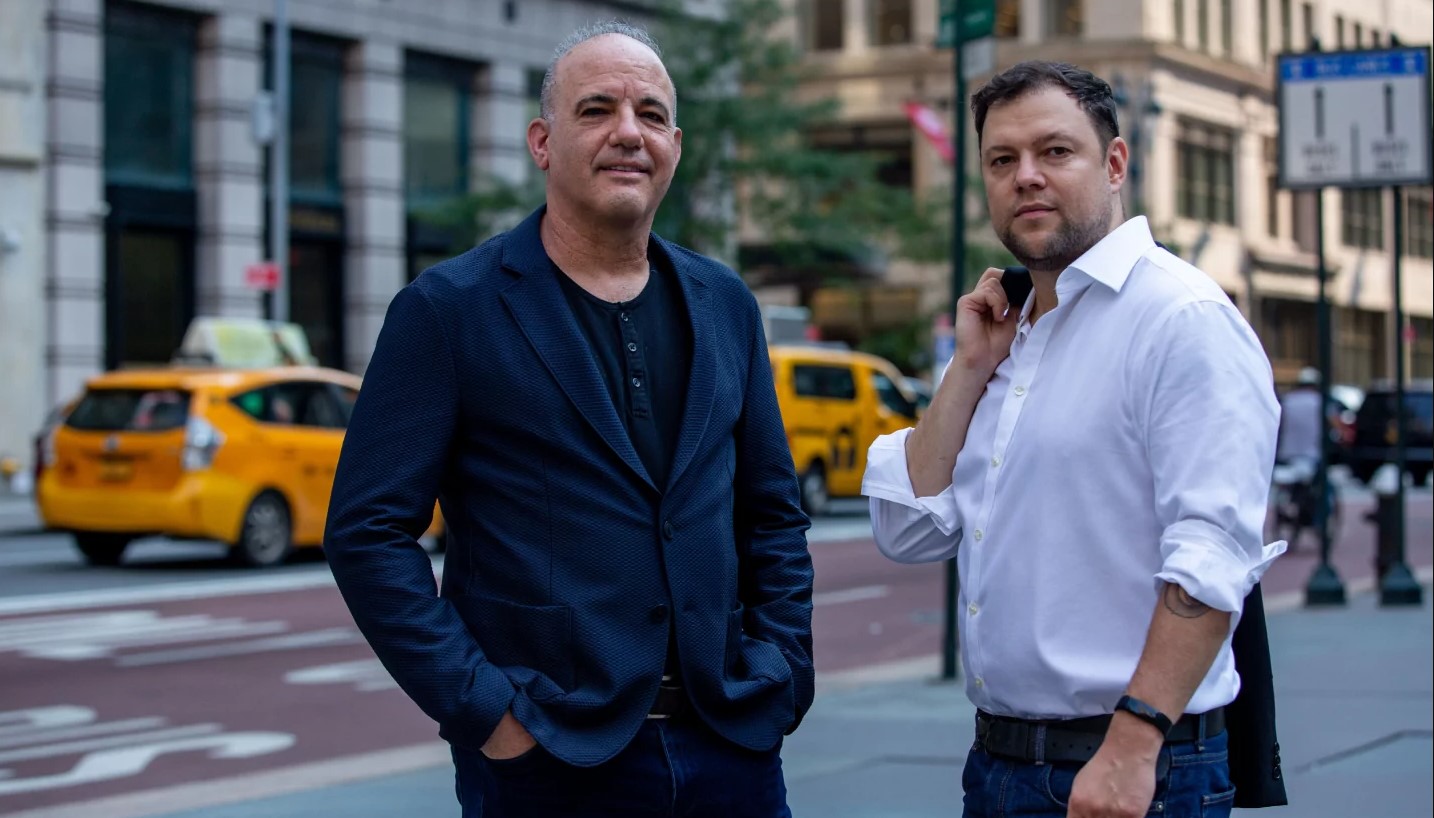 A central theme in those transformations is when people get together and commit to doing things across multiple streams, projects, ideas, etc. And those are typically called meetings. We said, hey, and this idea, this meeting concept, is so important.

And we were, we were thinking how, how we can actually improve it. So we have been on a journey for the past three years to create a better meeting paradigm. I think we've achieved a lot of it.

We've changed the meeting from a binary meeting to a continuous one, which means you don't, the meeting doesn't stop when people leave the room.

Gil Makleff

❄️ CEO and Founder of Sembly AI
About Sembly AI mission 💡
Artem explains that Sembly AI was one of those accidental, very timely ideas. No one knew that COVID-19 was going to happen. Sembly AI was started before any of the news headlines.
We did think that digital communication and remote work was a big and rising trend, and COVID super accelerated that trend. And now there are a lot of mixed work environments, remoting environments, and a sharp uptick in online communication across teams.
There are different platforms, different tools for trying to manage everything that people are talking to each other about, and there's no way to capture that information, address it, and do something useful with it.
And so Sembly is that platform that connects across different conference platforms, is able to capture and turn meetings into text, make them searchable, and then add all of the cool bells and whistles of analytics on top of that for those who want to use it in a professional context.

Artem Koren

❄️ About Sembly AI mission
Groundbreaking milestones of 2021 🥇
Gil and Artem share some of the challenges they faced in achieving their goal of building Sembly. One which might not be as evident to an outside observer is the ability to transparently and very easily connect into the environment where meetings happen.
Meetings happen across different environments. Zoom, Google Meet, MS Teams, Webex and others platforms.
Meetings get scheduled and organized in different calendars like Google and Outlook and also on different conference platforms.
The Sembly Agent needs to show up in those meetings very fluidly, providing the users with easy ability to add an agent or to block it while maintaining the highest privacy and security support. The ability to access and manage user meetings easily in these heterogeneous environments is something the Sembly Team is very proud of.
Another key accomplishment from our team is our transcription capability. Converting a conversation into a clear, transcribed dialogue that's separated by who-said-what, that has the appropriate punctuation capitalization and has the ability to identify the actual speaker is another capability that the Sembly AI team is proud of.

We have a proprietary AI system that processes our own speech-to-text transcription, diarization, punctuation, capitalization, etc. Our home-grown transcription and voice ID allows Sembly to provide our users with more privacy, lower cost, and consistent processing of meetings.

Artem Koren

❄️ About groundbreaking milestones of 2021
What we can expect in 2022 ⭐
Gil shares that he is excited because bringing a product to market is not only a mechanical process of building something and throwing it out there. The Sembly AI Team talks about the idea of collaborative intelligence. There's artificial intelligence, there's human intelligence, and there's collaborative intelligence. And this idea that we're very passionate about is that our AI is not here to replace humans.
Read more
One word is indicative of where the Sembly AI Team headed. And that one word is prediction. If Sembly were able to help users in meetings understand where a meeting is headed, 'where we are versus where we want to be', those types of things are very important for us to support users.
Just to be able to move and to navigate your meetings in a very easy way in your personal cloud is something that's very powerful so those are types of things that users should expect, expect next year.
Our AI is here to support humans and to provide humans with the ability to think deeply on different topics, to take away the tedious work, and to provide insight. One of the things that's coming down the path and it's actually in process, on the way very, very soon, is the Meeting Minutes module.

Glance View is one way to quickly see what was discussed in a meeting. But the Meeting Minutes module will provide a beautiful view of communication to other users in your environment, maybe one brief version to leadership, or a more elaborate one to the extended team.

So this idea of being able to not only create valuable AI and machine learning insights but also how to use them in the environment of your day-to-day work, make it easy, make it beautiful, make it communicative.

Gil Makleff

❄️ About what can we expect into the 2022
More and more corporate users are adopting meeting technology and are more accustomed to having their meetings recorded and transcribed. Using Sembly, one of the key features that users love is the ability to use multiple conference platforms together with Sembly.
If you're a Zoom user, but you also use Microsoft Teams, Sembly is going to have the whole picture. If you're a Google user and you use Microsoft Teams, or you use Zoom, Sembly will have the entire picture. So this 360-degree view of all your meetings in one place is something that's really awesome. People love it and are very excited about it for next year as well.
Read more
Artem shares that a lot of these technologies are coming very, very soon, and certainly will help the larger teams and larger companies take full advantage of Sembly and get value from it for their professional working environment. Another area is the presence of agents and supporting agents across your communications. This is a trend that we're going to see more and more.
So you're using your mobile phone, and you're using your browser, you're using the Sembly interface. We're going to be entering all of these modes of the interface so that Sembly becomes something that's highly accessible no matter how and where and when you're connecting. So that's going to be a big deal. Whether you're in a purely online environment, maybe you're in a mixed conferencing environment, where some people are in a meeting room, whereas others are in a conference call, all of those modalities will be supported.

Mobile devices will be supported, different browsers, and working directly with browsers will be supported as well. There's no download required today to the Sembly, which is already very, very present in terms of being online. But we're going to penetrate those areas even more so that's one area where there's going to, there's going to be a lot of interesting improvements and enhancements.

Artem Koren

❄️ About what can we expect into the 2022
But the fact that agents will become a normal presence in conference calls is going to be a big deal. Consider, for example, that you can send an agent to attend a call that you can't attend yourself, and then get quick insights on what happened in that call whenever you're later available.
That shifts so much of the meeting paradigm and allows so much more to happen in so much more democratized time for people. It's really going to change how people look at and organize and think about meetings in the future. So ever-presence from one universality of agents in calls as the other.
Stay Safe in 2022 🥂🎄
I'm really excited. It's been a hard year for many people, and I want to identify with that. It's been, you know, more covered, less covered. Everybody's in this turmoil. Can I go to this event, or is it going to be canceled? Or is it, you know, should I see people or not?

And I really identify with that. And I want to wish everybody an amazing 2022. And hopefully many of the solutions that, the health solutions that are being presented, between vaccines and treatments and, will yield a much, much easier 2022.
I want to wish that for everybody. We're very excited about the traction that we're seeing. We're gaining huge traction with new users on a daily basis. And I'm very excited about that.

I wish that many people benefit from the technology that we're providing because I truly believe that it will make people's day to day life much more healthy, if I can use that word. So really, best wishes for 2022, and lots of success to everybody. And going into next year, I'm truly, truly excited about the paradigm shift that simply is leading.

Gil Makleff

Sembly AI Founders Interview 🎄 Special Holiday Edition
I think these days, your quality of work-life and your mental health are as important as ever. A lot of new technologies are encroaching on some of our kind of mental hygiene space, and it's tough to regulate all that. And one of our hopes is that Sembly is a way for you to stay saner during the day, more, say, in your remote work, while continuing to enhance the social nature of work and communication.

So not make it all technology, not make it separate, but actually bring people together through this kind of technology. So that's one of our, that's one of our big hopes. And they wish that for everyone listening to take these holidays off-grid a little bit, you know, get your thoughts in order, maybe even disconnect a little bit.

And a tough year, but I think we're getting over the hump of the covered challenges and moving forward. But next year is more activity, more technology. And we really hope that Sembly will play a role in rationalizing and sanitizing some of that work, mental space while increasing productivity overall. I think those are the notes we want to hit, and we hope to do that for everyone listening and everyone trying Sembly after you take a nice, relaxing holiday break.

So happy New Year, and Christmas and Kwanzaa and Orthodox New Year and Chinese New Year, and whatever you guys are celebrating. We celebrate a lot of new year's Sembly because we're very international!

Artem Koren

Sembly AI Founders Interview 🎄 Special Holiday Edition
You can experience the full interview with Gil and Artem on the Sembly via Guest Access!