We're excited to share with you that our Sembly Mobile App is now available for Android and iOS on the Google Play Store and Apple App Store! Stay in control of your meetings even when you're on the go.
With a Sembly Android App and Sembly AI App for iOS you can record and analyze conversations using your Android phone or iPhone, and iPad, review your meetings and connect your Google calendar to invite Sembly to a meeting on Zoom, Google Meet (with any type of Google personal or Workspace account)
Let's go through the main Sembly Mobile app features. Glance View™ and Key Items features are available on Sembly Professional, Sembly Team, Sembly Team Plus, and Sembly Enterprise plans.

After easy login or signing up with your Google Account, you can set up a Google calendar integration or go to the main screen of the application.
The Sembly Meetings List is available on the main screen. It displays all planned and past meetings for you to dive into. The list displays all the meetings where you invited your Sembly assistant. Any meeting from the list opens up on touch.
Each meeting on the list is packed with meeting information to check before diving into the meeting details.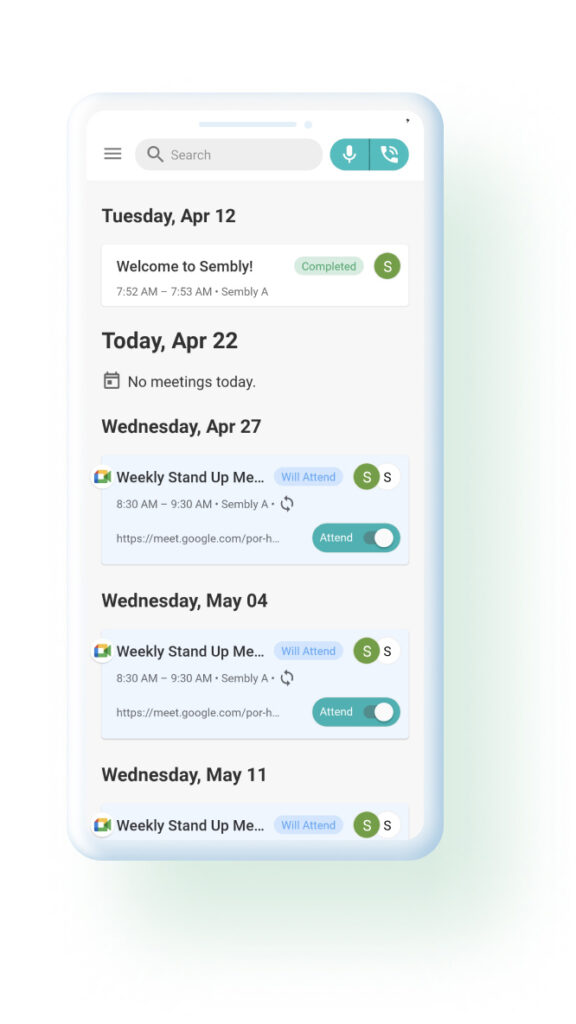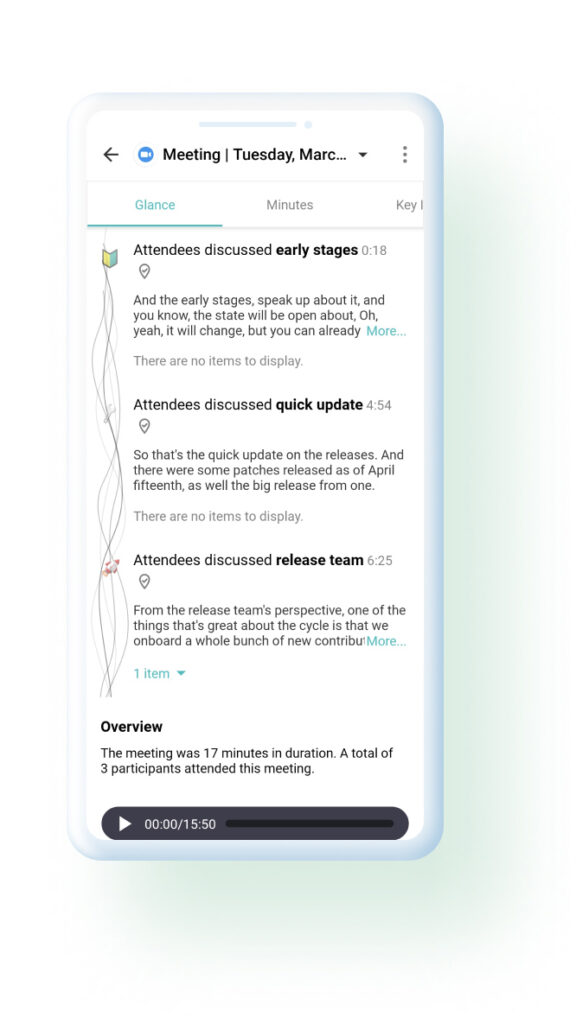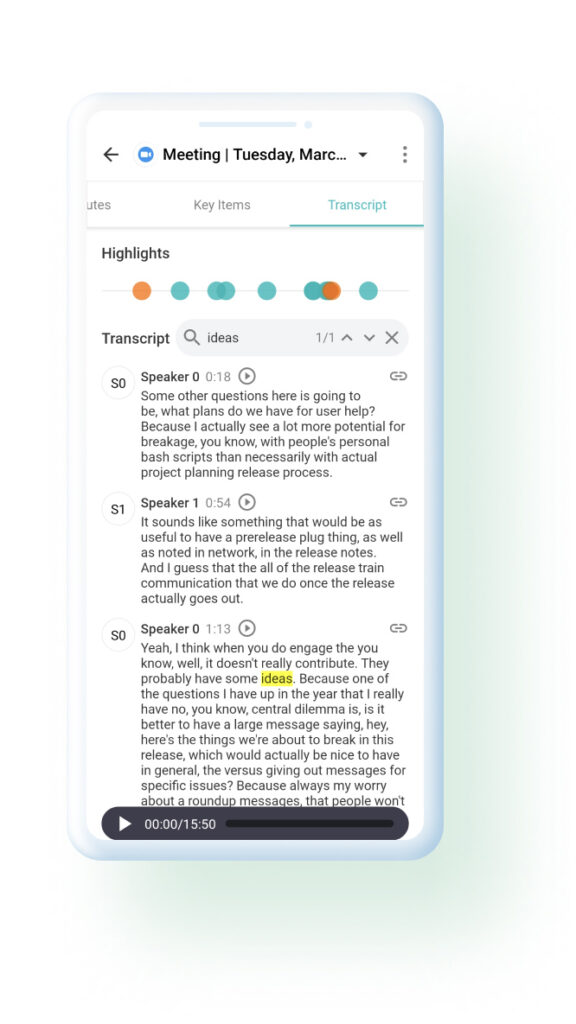 By clicking on a recorded meeting, you will find different tabs – Glance View, Key Items, Meeting Minutes and Transcription.
Glance View™ – uses magic ✨ and a bit of Artificial Intelligence to produce a topical digest of a meeting.
This unique feature helps users quickly understand what the meeting was about, what key topics were discussed, and what the main outcomes were.
You can record your voice within Sembly, no need to create a conference call if you are in one room with everybody else during a meeting. Use the button in the top right corner to start recording (coming soon to iOS Sembly Mobile App)!
Sembly Mobile App allows you to easily share the structured results of meeting with clients or colleagues who were not present at the meeting!
You can also add Key Items during the meeting or record by voice commands as you would do with Siri or Alexa.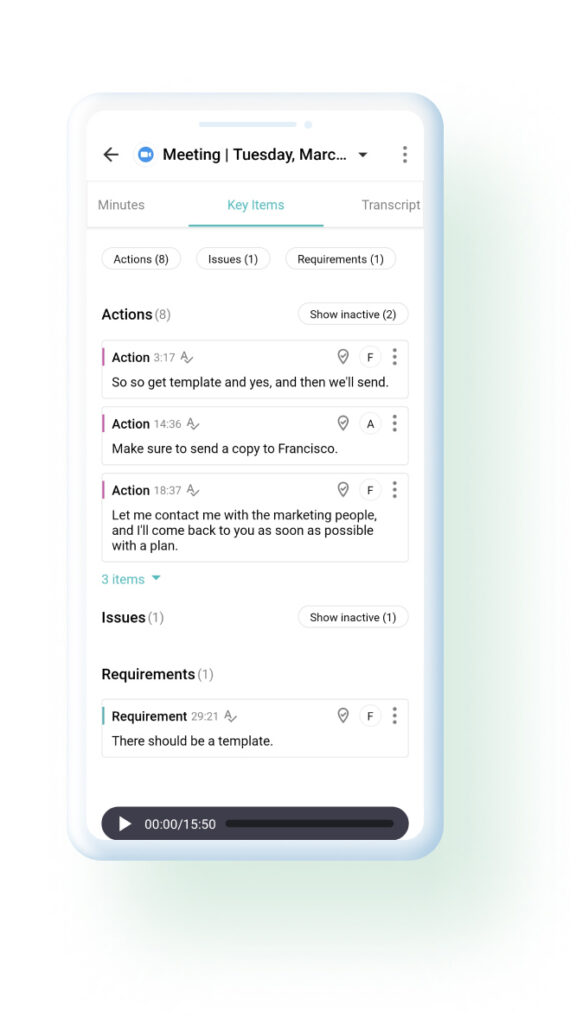 Key Items that Sembly recognizes automatically if the relevant topic was discussed at the meeting are Activities, Issues, Risks, and Requirements:

Activities is the action that can be transformed into the task, a job that needs to be done, an order from a supervisor, etc.
Issues is critical key points that describe a problem that may or may not be solved.
Risks is an uncertain event or condition, that if it occurs, has a negative effect on an objective. Risk can affect anything: people, processes, technology, and resources. Risks and Issues are not equal.
Requirements is the desired function, attribute, capability, characteristic, or quality of an instance for it to have value to a customer, organization, internal user, or other stakeholders.
The free plan Sembly Personal includes limited recordings & transcription volume. English only. An internet connection is required to use Sembly Mobile App on any platform.
⭐ Use Sembly Personal with Sembly Mobile App to keep track of your ideas with voice notes, record important conversations and text-search across your conversations.
⭐ Use Sembly Professional with Sembly Mobile App to attend meetings you cannot attend, review key takeaways from your discussion and read summaries of recorded meetings.
⭐ Use Sembly Team and Enterprise with Sembly Mobile App to easily manage access and share meetings with your team, customize your workspace and agent name, get premium support and additional training.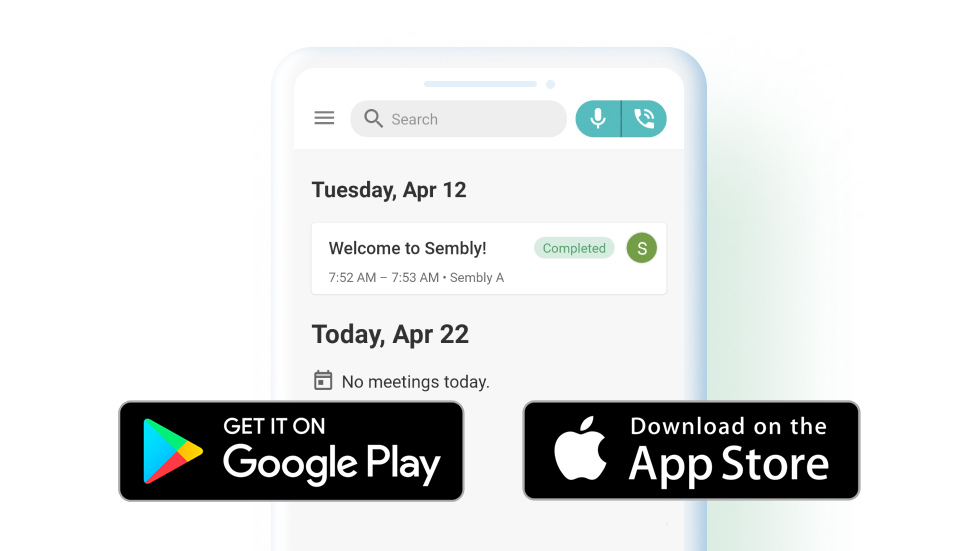 ---
Download Sembly App on the Google Play or Sembly AI App on the App Store today!