Companies are increasingly calling their employees back to in-person work, at least for part of the week, as Covid cases remain low. Collaboration and work culture are frequently cited as motivations for executives to return. However, once at work, employees discover that virtual meetings are still a big part of their day.
It can be easier than capturing a group into a conference room, even for those in the office. In certain circumstances, it's a requirement for teams operating across cities or countries.
Use Sembly Team to unleash the power of AI in business meetings by transforming them into actionable insights. Now, you can focus on moving your team forward and improving communication, efficiency, and productivity. See what our customers are saying about increased productivity: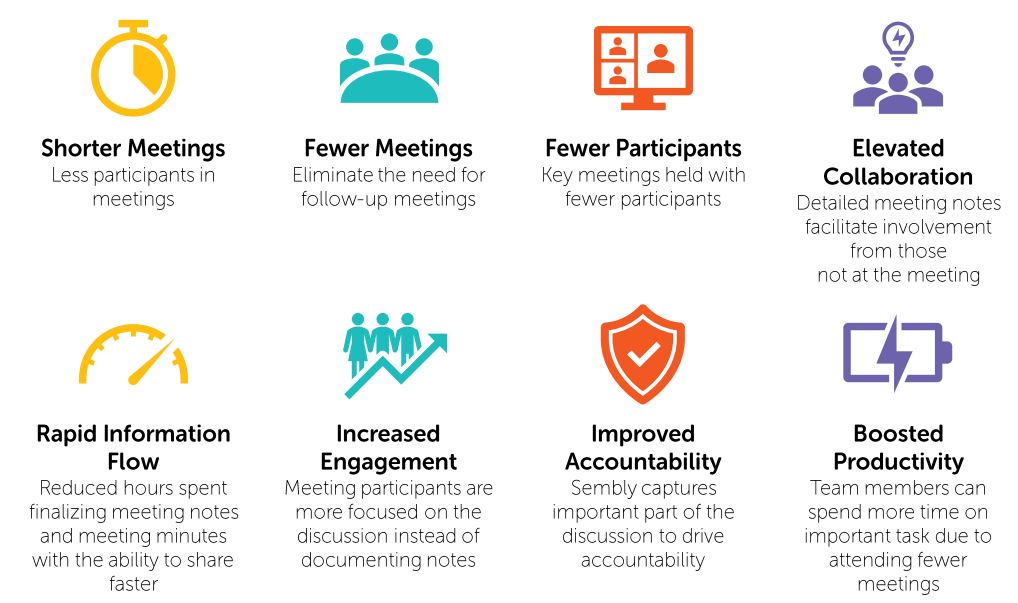 Sembly offers two service plans for a single user: Personal and Professional, and three plans for the teams: Sembly Team, Sembly Team Plus, and Sembly Enterprise.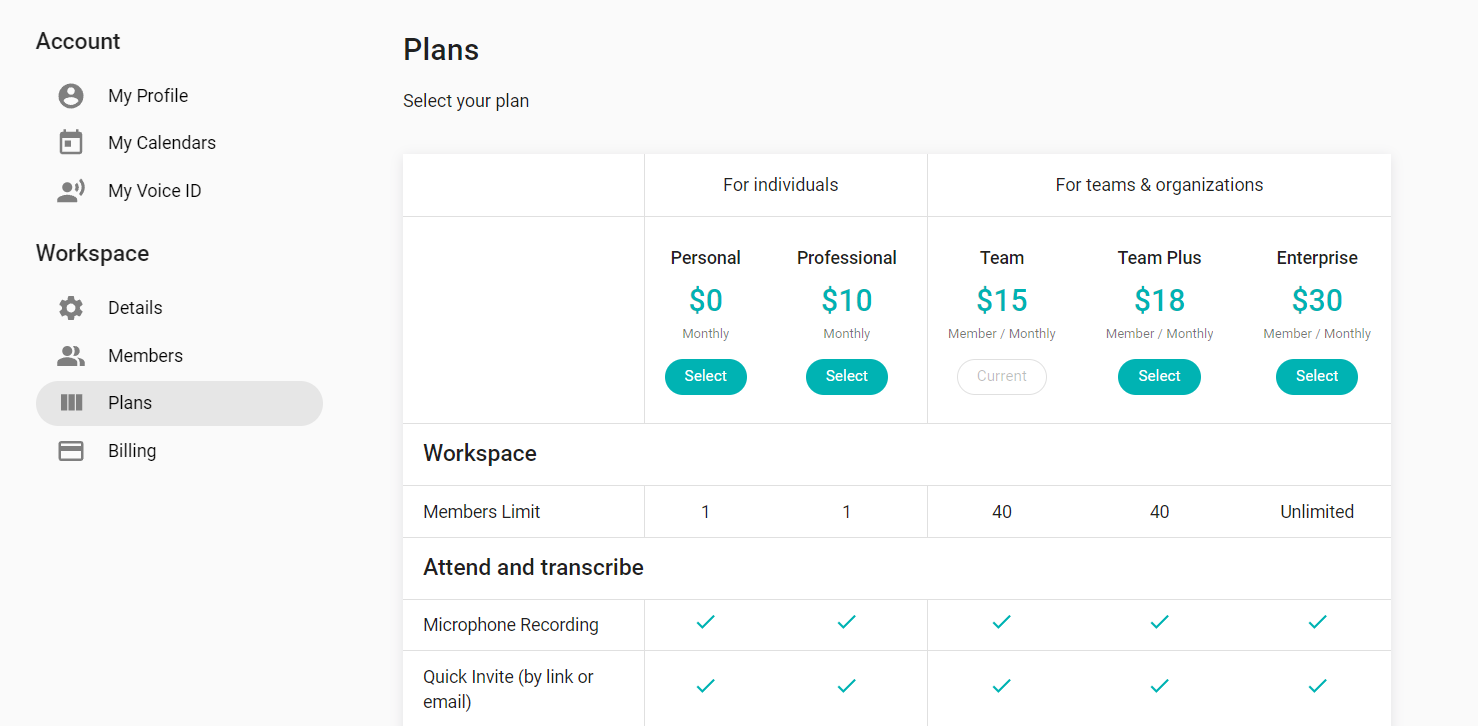 Sembly Team users can add members to a single workspace and manage it within a single admin center. This means that:
instead of multiple Sembly Agents that used to join meetings following their owners, only one workspace agent will join the meetings of all users in the workspace;
all workspace members who received an invite to the call can access it in their Sembly accounts (unless restricted);
billing and the admin panel are united within a Workspace and controlled by the workspace Admins
in Sembly Team you can invite up to 40 workspace members!
Benefits for the entire team
Get time back! Use Sembly to share meetings with team members who couldn't attend or send Sembly to attend a meeting that you can't make.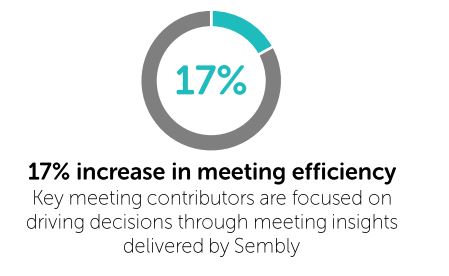 Meeting minutes often are inconsistent, missing key actions, challenges that need to be met, and associated agenda items.
Sembly Team automatically detects Key Items and creates a Meeting Digest "Glance View" that can be shared with your team and clients.
With Sembly post-meeting and in-meeting attendees continue the dialogue well after the meeting ends. Information flow increases with continuous communication between team members that reduces the need to wait for the next meeting to resolve an issue.
Workspace and Collaboration
In contrast to personal accounts, workspaces allow for incorporating members of the same organization in a common space. You will be able to add users and manage billing in a single admin panel.
With Sembly Team you will be able to add new workspace members and give them roles: workspace admins or regular members. Workspace Admins can add new members and edit roles. Regular Members can see a list of workspace members in their profile settings but can't add new members.

Sembly Team allows collaboration and sharing the meeting with teammates and colleagues. Changing meeting transcriptions, updating key items, and other things will be available when you work with the same meeting with the team. You will have one agent for the whole team, who will deliver identically valuable insights to everyone on the team.
Unlike individual Sembly plans where the meeting invitees have a Sembly agent each, users under a single Workspace are followed by a single agent, linked to a Workspace.
Meeting inside of the Team within one workspace in Sembly will have only one Sembly agent present;
Workspace members who received an invite to a meeting will all have access to this meeting in Sembly;
Sembly users from another workspace will have a personal agent on a call, therefore they will have their own recording and will not have access to your meeting in Sembly unless you share.
Users, who already have accounts in Sembly can be invited to join your workspace. After the transaction, all account settings, and users recordings used to have in the previous workspace or a personal account will remain the same. 
Unleash the power of AI: Glance View, Action Items, and Automated Meeting Minutes for all Team members
Save time by using Sembly's Glance View feature. This unique feature helps you quickly understand what the meeting was about, what key topics were discussed, and what the main outcomes were.

Share structured results of the meeting with your clients or team members who were not present at the meeting.
You can also invite new team members into the workspace with one click!

The invite receiver will be able to register a brand new Sembly account following the instructions in the e-mail and become a part of your workspace. 
A user, who has already had a Sembly account will be able to join your workspace and will now be a part of your team in Sembly.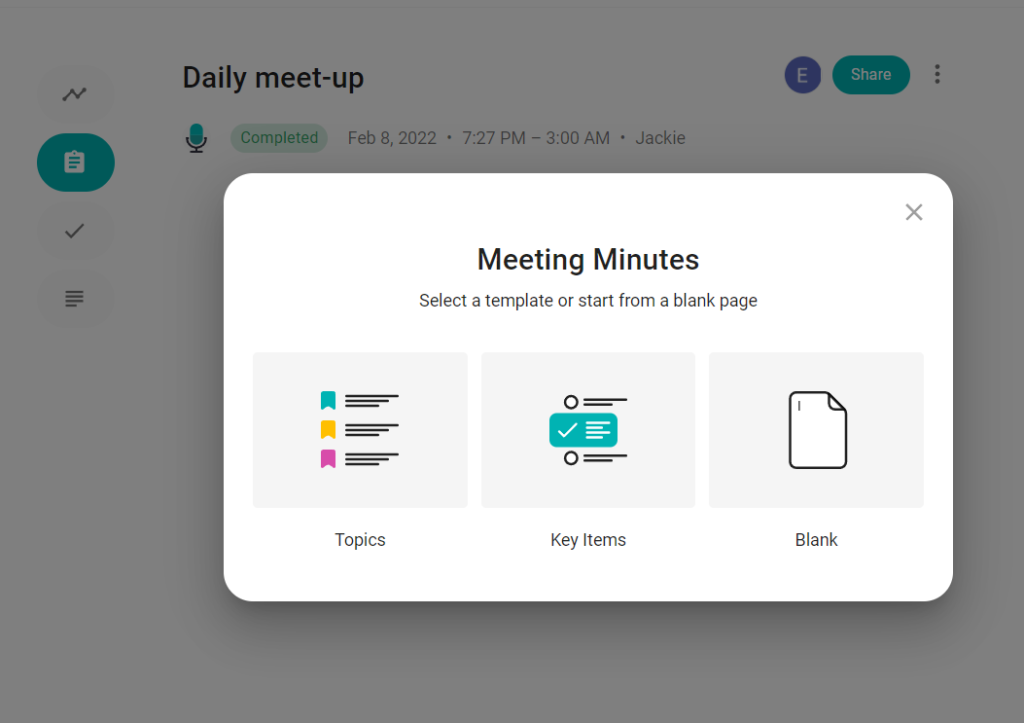 Never miss an action item or an issue again with automatic item detection. Sembly automatically identifies next step actions, issue items, risks and requirements for products or processes that were discussed during the meeting. A list of key items provides a complete picture of important discussion parts that can be quickly converted into tickets and tasks.
Beautiful, complete, content-powered minutes to easily share progress with your team or clients. Sembly takes the hassle out of creating meeting minutes.
Sembly provides automated templates and a rich set of options to add or change meeting minutes and includes or exclude key items that you can quickly share with anyone.
Start free trial now and unleash the power of AI for your team! Should you have a team of more than 40 workspace members, take a look at Sembly Enterprise.