Meetings are a common tool used in businesses to promote productivity and maintain progress. However, they are, nevertheless, well-known for their inefficient outcomes. But why do most meetings fail before they even begin and how can meeting minutes change that? 
Keep reading for helpful tips on how to make meeting minutes effective. This article provides some tips on how to use this great feature of Sembly Professional, Sembly Team, and Sembly Enterprise plans, which now includes AI automated meeting minutes.
Meeting Minutes Complete Guide
Meetings can be held in person, over the phone, or via video conferencing. They can be planned in advance or happen spontaneously where data gets exchanged, decisions are made, or merely actions are discussed. There is always some sort of information exchange going on and often this information is referenced in future decisions.

Meetings can be held for a variety of reasons:
With the objective of making decisions, to exchange, inform, or discuss a given subject with team members or other stakeholders.
To bargain with suppliers and come to an agreement on specific content.
Meetings with the project sponsor, team members, and others on a one-on-one basis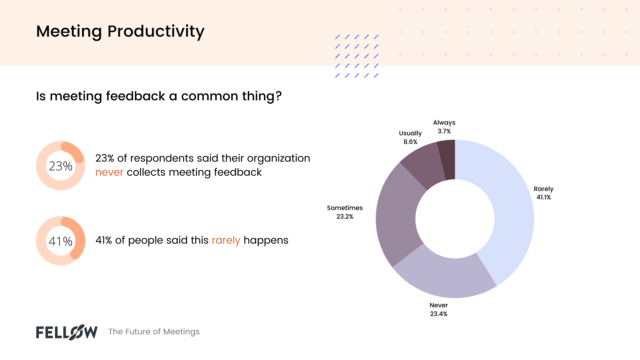 Each meeting generates data that may need to be analyzed as the project proceeds, that may aid in decision-making, or that may be useful to you at a later time.
Therefore, you must keep detailed notes about this information to ensure nothing is forgotten, no matter how insiginfant the information may seem, it may have a future impact.
What Are Meeting Minutes?
Meeting minutes are a written transcript summarizing what was discussed and decided during a meeting or hearing in a few simple words. Meeting minutes, despite their name, have nothing to do with actual minutes; they're simply a way of documenting the major choices that were taken and what will happen next as a result. They highlight the key issues that are discussed, motions proposed or voted on, and following activities. 
Taking meeting minutes entails breaking down the information to the most crucial points. Meeting minutes are records that aid stakeholders in rapidly comprehending the meeting's goal and outcomes.
These records should be clear and concise, and they should include the main points, topics, action items, and opportunities discussed. 
Minutes can save a project's continuity by bringing new staff and leaders up to speed quickly on the project's history. Meeting minutes are also useful documents to look over before a meeting to ensure that everything has been discussed.
What is the importance and purpose of meeting minutes?
While meeting minutes may appear time-consuming, they provide a number of advantages that can help your organization stay on track. Meeting minutes can be used for a variety of purposes, including:
 Recording minutes can be a terrific method to keep meetings on track when you have a hectic schedule. Typically, the person taking meeting minutes will prepare an agenda ahead of time, laying out the themes and action items 
They increase desired outcomes
Recording action items and assigning them to someone within the organization is a crucial element of the meeting minute process. This not only allows leadership but makes sure members keep track of progress by taking ownership of individual responsibilities.
They help with transparency 
Whether you need to file your association's meeting minutes or simply want to create a reference point for those who couldn't attend, meeting minutes help your organization stay transparent.
While keeping a written record is always a good idea, in time-sensitive situations, it may be the last thing on your mind. Getting into the practice of taking great minutes early on has a significant impact on team productivity and eliminates superfluous back-and-forth later on.
Meeting minutes are extremely useful tools that can benefit your team in a variety of ways and once you begin using them, it is difficult to imagine work without them.
They improve the efficiency of meetings
Meeting minutes can help avoid endless discussion and error because they provide a clear summary of items discussed providing efficiency and ease. 
They lay out the meeting's framework
A  general rule in business is that a meeting leader should never go into a meeting without a detailed plan describing what needs to be covered and completed.
Using meeting minutes, you will develop the practice of determining meeting agenda items in advance and will be prepared for future projects.
This will give structure to your meetings and ensure that everything is discussed completely and quickly.
You can simply send a copy of the meeting minutes to attendees, and they will be able to catch up immediately on the past meeting they attended.
This feature is especially useful if you use software like Sembly, which allows you to save and share anything from a single workspace.
Make sure you don't look past crucial topics
Meeting minutes ensure that nothing is overlooked during your discussions.
You'll be able to refer to the agenda items you've previously highlighted in your draft, as well as previous meeting minutes.
Hold employees accountable
Finally, meeting minutes ensure that both what is addressed in meetings and meetings themselves be recorded and understood by employees.
When a meeting item is discussed, the person taking the minutes normally writes down the team, contact person, or leader who is linked with that meeting item.
This ensures that the specific person(s) are held accountable for that topic and eliminates any uncertainty about who is "in charge" of any project.
Enhances client relations
Clients can use meeting minutes as accountability tools. Meeting minutes are useful papers to refer back to if there's ever any uncertainty about whether an item was discussed at a meeting (or whether the meeting was even conducted at all), as they provide clarity and minimize irritation.
Why and how to make effective meeting minutes 
Although gathering meeting minutes takes effort and commitment, it can be costly in terms of both time and resources if it is not done. If no meeting minutes are taken, you'll find that the information retained by you and your colleagues may vary or be disagreed upon, which could lead to potential problems. Important chores may be overlooked or will not be completed by the deadline and may lead to large consequences. 
Good meeting minutes detail what was decided, what has to be accomplished, and when it needs to be done. Writing effective meeting minutes can help you save both time and money. Short minutes that reflect the meeting's objective and agreed-upon outcomes provide a record that may be referred to and utilized for follow-up later. Good minutes are brief and to-the-point, yet they do not exclude vital information.
You can refer back to the meeting minutes if a task isn't completed and follow up on it. Otherwise, you have no record if an action isn't carried out and in the worst-case scenario, the meeting may have to be repeated.
Meeting minutes may be necessary for legal reasons in some cases. Local rules, for example, may demand it for specific sorts of organizations. They may also be required for employee disciplinary meetings. It's a good idea to get into the habit of taking meeting minutes or implement a solution for automated meeting minutes.
Meeting minutes, if done correctly, can actually serve as a strategic and enriching role in your organization, boosting decisions, especially if the notes are purposefully structured to democratize company information and create a shared understanding. The minutes of a meeting are usually taken by a designated member of the group. Their task is to provide an accurate record of what transpired during the meeting.
If you use meeting minutes to discuss and clarify how leadership made particular decisions, for example, they can be agents of transparency. If you use them to create and manage a mini-project with agreed-upon timelines, action items, and goals, they can even serve as progress monitors.
Meeting minutes are crucial because they serve as a record of the main points discussed during a meeting. The meeting minutes are then shared with the group participants. Apart from distribution, the minutes are also saved for future reference.
What needs to be included in meeting minutes?
When drafting meeting minutes, you must include many types of information such as: the purpose of the meeting, what it was about, and where and when it took place. It's critical to note attendance and include both first and last names in the documentation. If you're not certain, double-check that you've spelt everyone's name correctly; otherwise, your meeting minutes may appear unprofessional or offensive. 
It should include if certain employees did not attend but were supposed to. Especially because sometimes decisions cannot be made without a particular person present.
There are a number of other important items to include in your minutes:
What was accomplished at the meeting.
Decisions made
Documented record of the actions taken.
Any acts that have been agreed upon. In this scenario, you should include the activity itself, as well as who was assigned to it and when it was due.
Finally, if there was an agreement on a follow-up meeting, that should be highlighted.
The most essential issues covered at a meeting are documented in meeting minutes. They have a variety of uses:
Inform absent team members of the conversation and outcomes reached
Serve as a record of the discussions for future use
Informational "takeaways"
Here's a summary of what your meeting minutes need to include: 
Time, date, and location (of online meeting platform) of meeting
Meeting attendees 
Agenda items covered
Decisions made during the meeting
Discussion topic list
Status and list of open action items
Action items to be completed before the next meeting
Optional details on the next meeting (date and time)
If there is one takeaway from this lesson, it is that organization is important. Not only should your notes be thorough, but they should also be easy to read.
An excellent document demonstrates a degree of professionalism and attention to detail that goes beyond simple note-taking. The easier your notes are to read, the more likely they will be read in their entirety (and appreciate your hard work)
After you've finished any important phone calls, carefully compose the written representation of the negotiated agreement and topics discussed. While you're still on the phone, let the other person know that you will be documenting this conversation. After any major verbal "face-to-face" agreement, you should also create such a record.
Your feedback is critical not only for maintaining a good meeting culture but also for creating high-quality minutes for every meeting!
Now you know how to create consistent, high-quality meeting minutes. However, consider how much time and work it takes to design these high-quality meeting minutes, and imagine an easier alternative.
Simplify your career by using Sembly Automated Meeting Minutes for online meetings in Zoom, Google Meet or MS Teams.
How do Sembly Automated AI Meeting Minutes work?
Extract meaning from your meetings in one click. Get a summary with topics discussed, decisions made, and actions planned right after the call.
Sembly Agent joins, records and stores your meetings. Invite Sembly with email, meeting link or sync your calendar. Easy setup, no downloads needed.
Sembly webapp powered by AI transcribes the meeting, summarizes key takeaways. Identifies topics, actions, issues, risks, and requirements.
Sembly automatically generates meeting minutes Sembly organizes key items into meeting minutes that you can edit and share with colleagues.
Sembly generates meeting minutes with brief, sharable summaries of what happened during the meeting. It captures essential meeting outcomes such as topics discussed, key decisions, and action items.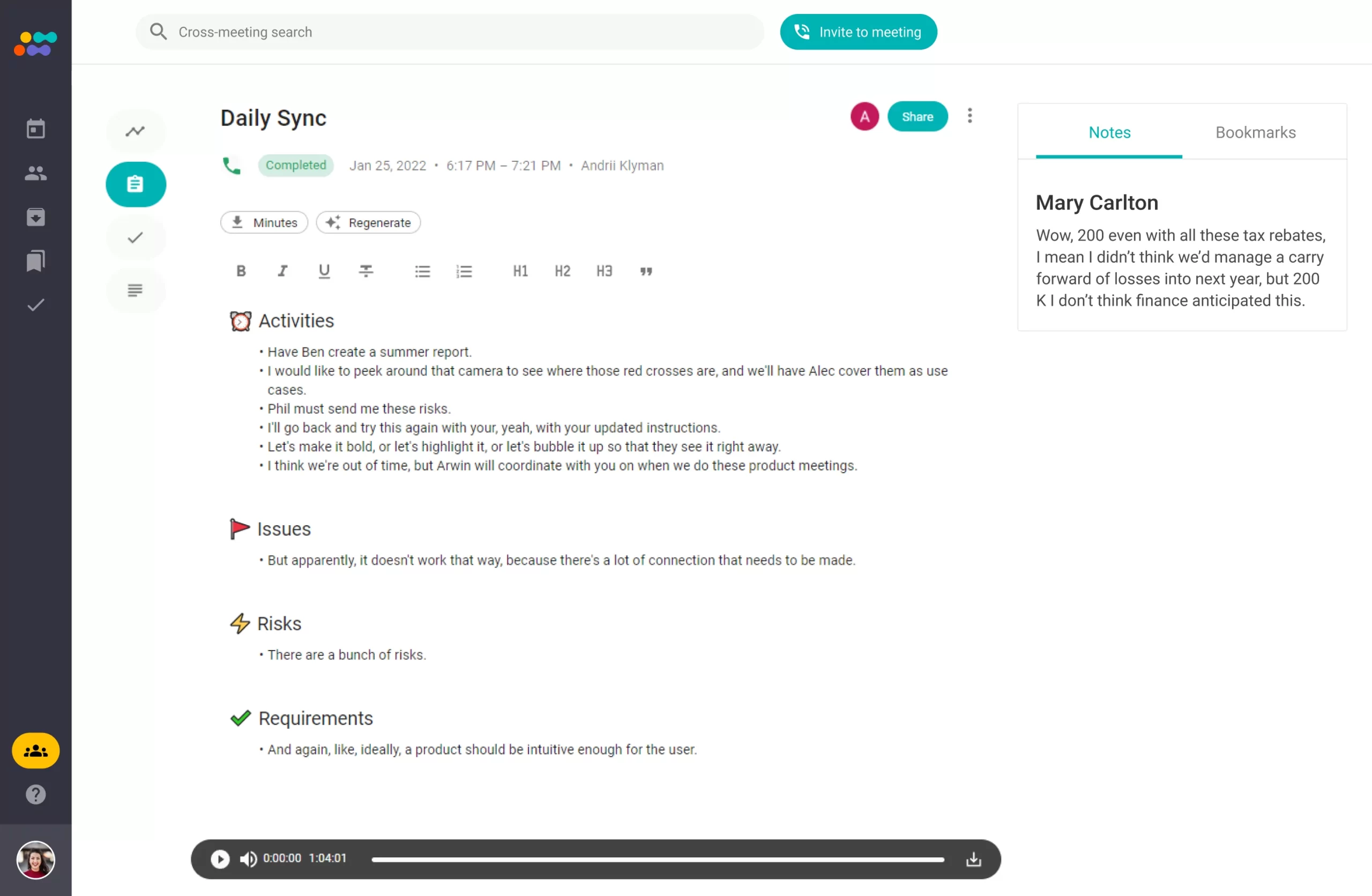 Sembly Automates Meeting Minutes Options and Templates
Sembly analytics steps in to collect all the important items, structure them in one document, and help you to deliver them to the team faster.
In the following steps learn how to manage "Meeting Minutes" (available in the Professional and Team plan).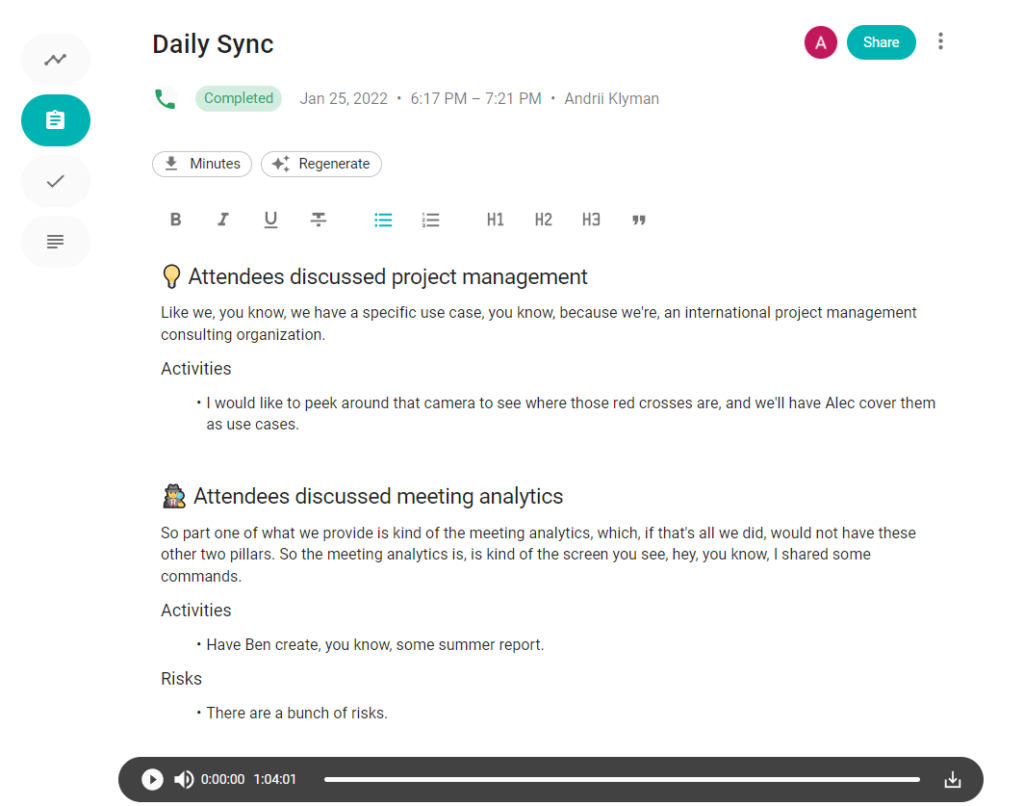 Turn your meetings into shareable summaries automatically with a Sembly AI!
Auto extract discussed topics.
Action items, requirements, issues, and risks.
Includes three easy editable meeting minutes templates.
You can select the data you wish to generate into the Minutes document. It can be topics with Key Items, only Key Items, or your personal Minutes that you can create using the blank page.
You can change the selected option at any time using the Regenerate key.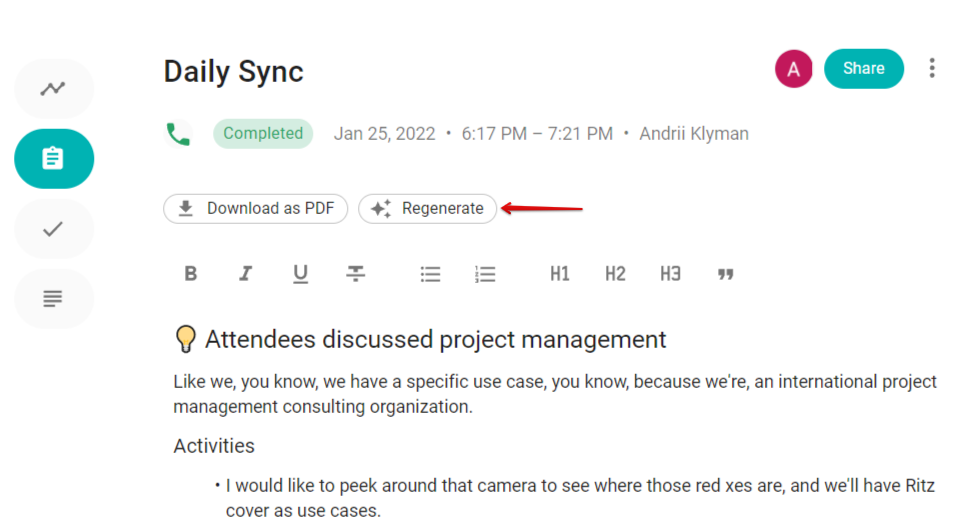 Go to your meeting and select Minutes in the menu on the upper-left side
Click 'Generate' option key
In a popup select Topics, Key Items or Blank document template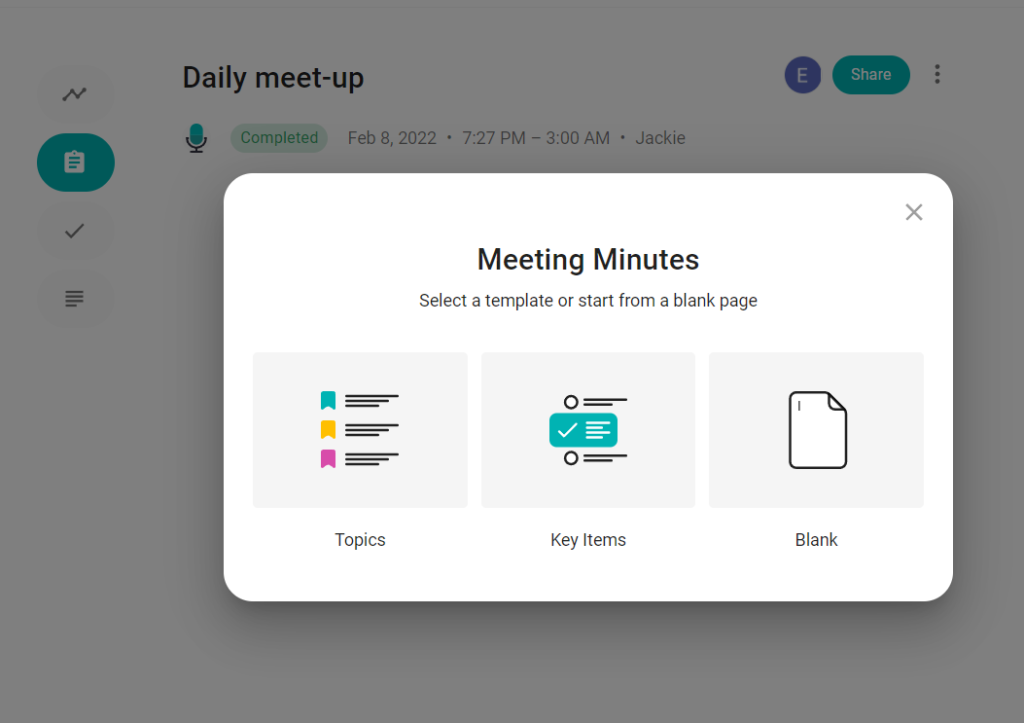 Click where you wish to edit the text or the title and insert your edits. You can also use an editing bar on the top to change the text style
Try to generate Sembly Automated AI Meeting Minutes now!