We're excited to introduce the latest Sembly updates! Existing Sembly users logging into Sembly on the web will see a new Sembly experience and features. Here's a look at what's new:
Smarter meeting summarizing experience with updated Glance View™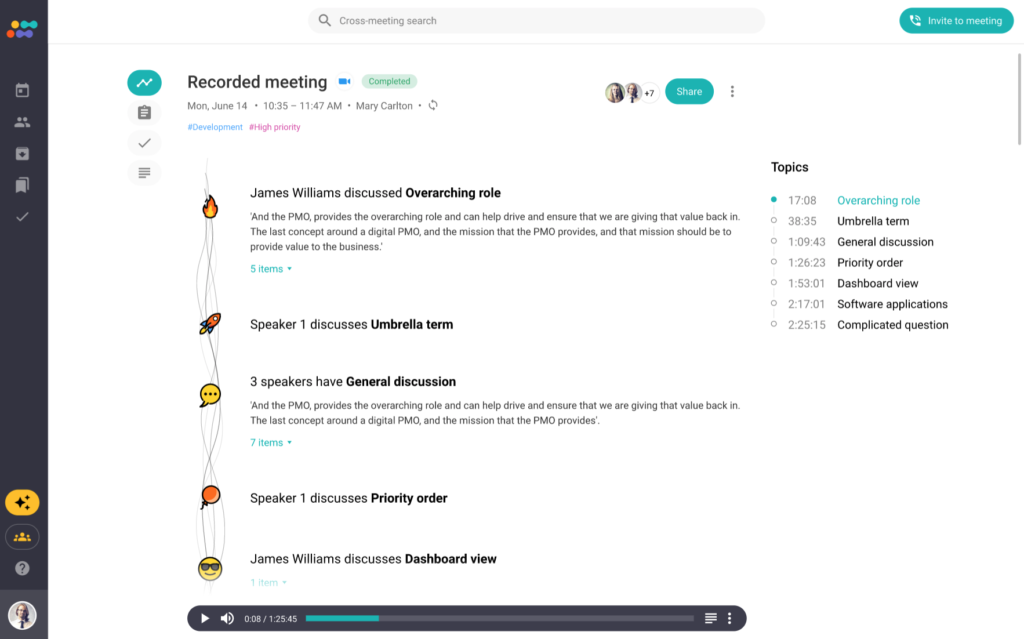 Glance View™ – uses magic and a bit of Artificial Intelligence to produce a topical digest of a meeting. This unique feature helps users quickly understand what the meeting was about, what key topics were discussed, and what the main outcomes were.
It allows sharing the structured results of meeting with clients or colleagues who were not present at the meeting.
The latest Sembly update includes:
better splitting by topics inside Glance View™ smart summary;
better topics identification;
more detailed and smarter automated meeting minutes.
Glance View™ feature is available on Sembly Professional plan, and in three plans for the teams: Sembly Team, Sembly Team Plus, and Sembly Enterprise.
Updated Version of Service Requirements Detection
In the updated version Sembly better automatically identifies and pop-ups requirements, discussed in the meeting.
Sembly automatically identifies next step actions, issue items, risks, and requirements for products or processes that were discussed during the meeting.
A list of key items provides a complete picture of important discussion parts that can be quickly converted into tickets and tasks.
Sembly also provides automated templates for meeting minutes and a rich set of options to add or change meeting minutes and includes or excludes key items that you can quickly share with anyone.
The latest Sembly update provides a lot of improvements:
better action items detection;
better recognition for design meetings;
better recognition for requirement gathering meetings.
Multiple UI improvements inside Sembly webapp

Our team is constantly improving the user experience of the Sembly product.
This includes, but is not limited to, improved in-product prompts, redesigned buttons for inviting a Sembly to a call, or starting a local recording.
We also added the possibility to modify Meeting Names, and filters to better manage the meeting list and local recordings.
The latest Sembly update includes:
multiple edits to improve your user experience with Sembly.
If you're a new user or team, sign up here and unleash the power of AI for you and your team!