Multitasking is an essential part of success in modern society. Today, there are thousands of apps that help us multi-task by being able to complete assignments remotely and remain productive. Simultaneously, notifying us about new tasks, meetings in our calendars, or invitations to an event.
Multitasking is vital for any position, however, over time it can prove to be a strenuous and draining task. Often, the product manager's role depends on how they manage these stressors — dividing time, attention, and skills.
The benefits of focus. Regardless of your industry, concentration is conducive to professional success. 
Impulse and dynamics. When focused on one task, you are more likely to complete it with greater efficiency. This ongoing success will help you maintain a positive attitude and motivate you to achieve your future tasks
Reduced stress. By increasing productivity, you also minimize any stress and pressure that may arise while working. The ability to channel energy ensures that you meet all deadlines and maximize efficiency. Be able to make last-minute deadlines with high-quality task execution.
Focus not only depends on keeping your attention on one task but also on your ability to suppress distractions and ignore negative emotions. Long periods of focus can lead to fatigue which affects the brain and makes work miserable.
Surprisingly, professional burnout has been officially included in the International Classification of Diseases (ICD-11) and is a studied phenomenon.
WHO characterizes burnout as:
Lack of energy, emotional and physical exhaustion.
Feeling distanced from work negativity and cynicism in relation to tasks, employees.
Decreased professional efficiency.
Two important points to remember in order to excel include self-education and diligence and surrounding yourself with those who inspire you.
Motivated, dedicated employees are more at risk of burnout. One reason is that they force themselves to do more, sometimes at the expense of their mental health.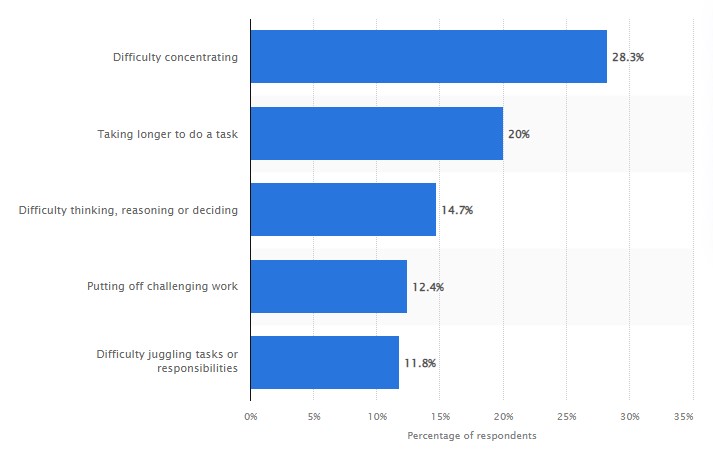 ---
A good work environment needs to be monitored constantly and improved — it's an ongoing process. Let's start by looking at ten ways to stay focused and non-distracted for product managers.
1. Realize the dangers of multitasking
We have a network of brain structures associated with focus: the default mode network (DMN) is responsible for analyzing the past, predicting the present or planning the future, and thinking about ourselves and others.
We are in this mode at least half the time. But when we need to focus our mind, we tap into the direct attention network, which allows us to postpone thinking and focus on the task at hand. 
Distractions, whatever their form, put you back into default, which can negatively impact your cognitive ability. It may take 10-18 minutes to regain the previous level of attention. Therefore, distractions need to be reconciled and a consensus found.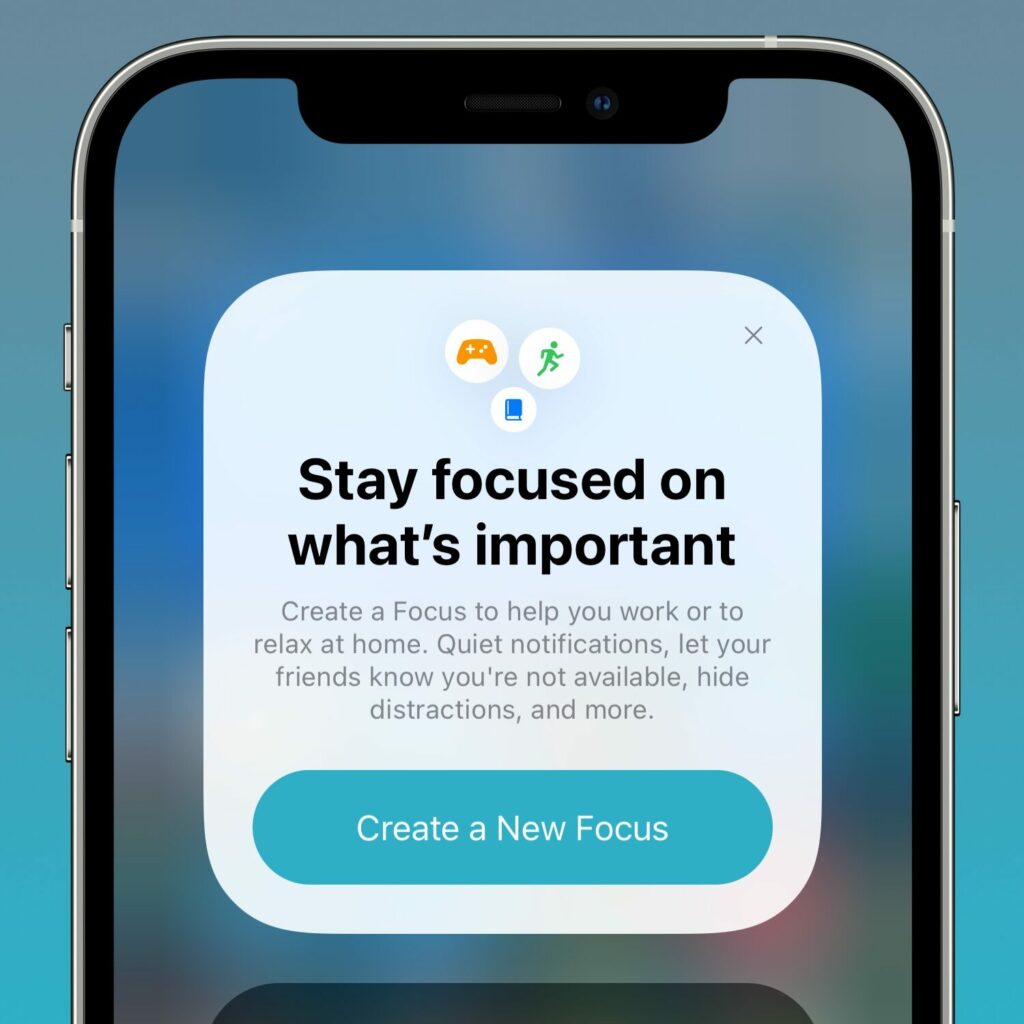 ---
2. Anticipate distractions
Removing all distractions is impossible in a remote environment, but keeping them to a minimum positively impacts your workday. Limit the number of notifications on your phone. Disable anything that is not work-related.
Consider turning off all notifications for a couple of hours a day so you have time to fully concentrate. In return, you can plan periodic breaks between projects to reward yourself for focusing on your tasks.
---
3. Delegate and prioritize
Take time to assess your workload and prioritize each project. If possible, talk to your supervisor. They can inform you of potential tasks that can be delegated to other team members to help reduce the workload.

---
If that isn't possible, prioritize your projects and responsibilities and consider using task management tools. 
Use Sembly to share meetings with team members who couldn't attend or send Sembly to attend a meeting that you can't make.
---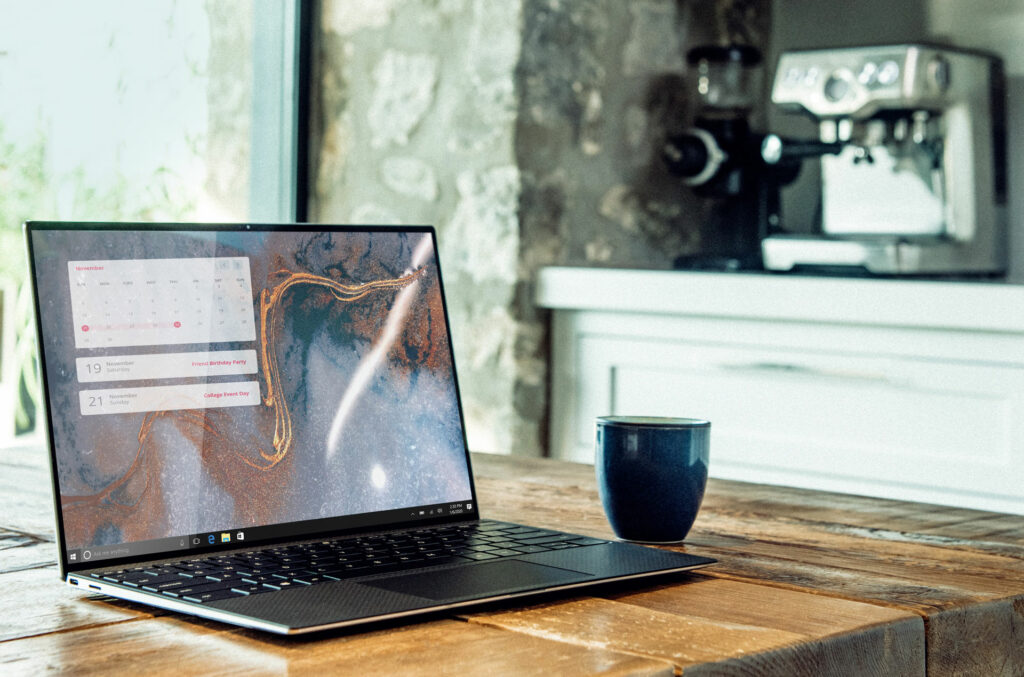 4. Organize your workplace
Our work environment reflects the quality of tasks produced. If it lacks structure and organization, the work produced can often be insufficient and you may get easily distracted. 
Your workspace is a reflection of your habits and personality. Keeping a clean and organized area can have a huge impact on maintaining focus and increasing productivity.
5. Set clear goals
List your top goals for the week. This will help you prioritize tasks and avoid distractions. Review your list throughout the week and determine what tasks you can accomplish each day.

Avoid writing detailed and complex goals, because they can be easily misunderstood and confuse other team members.
6. Find your workflow
Everyone has different habits and different working styles. Some do better when they work continuously, while others work better in short intervals.
It is important to understand which style works best for your personal needs in order to maximize productivity. You don't have to worry about missing insights from meetings you weren't able to attend. With Sembly, you have all the information you need after the meeting at your fingertips.
7. Plan Ahead
Find the work method that works best for you, it may include lists, hourly work schedules, etc.

---
However, it is important to remember to schedule breaks as well. For example, a list of key items after the meeting provides a complete picture of important discussion parts that can be quickly converted into tickets and tasks.
8. Attend less, produce more
According to an Atlassian survey, most employees attend more than 62 meetings a month, and about half of these meetings are labeled irrelevant and ineffective. This means employees spend over 20 hours a month in meetings with little or no results.
With experience, most employees realize that not all meetings yield productive outcomes. In order to prevent ineffective meetings, you need to come prepared to analyze the conversation, draw conclusions, follow up questions, and action plans.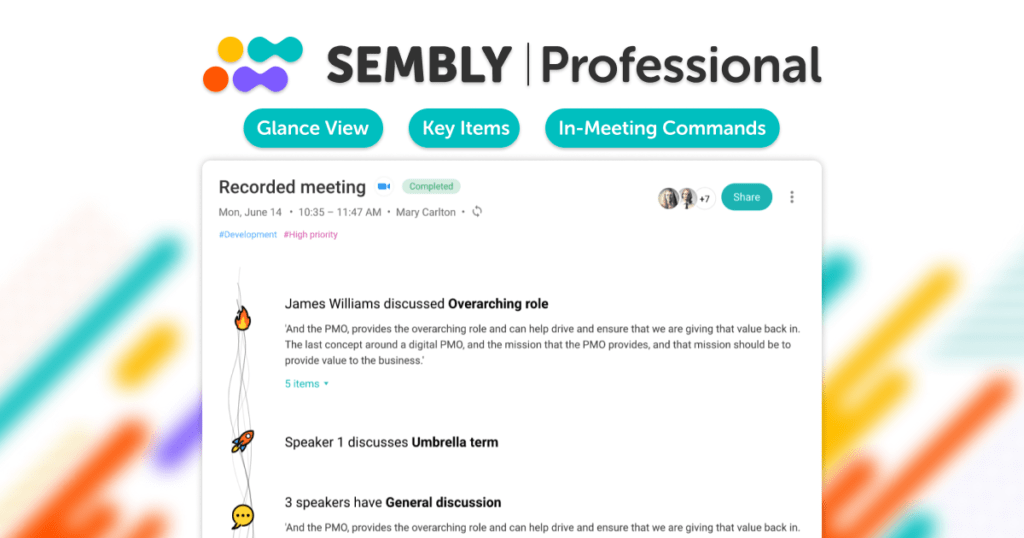 ---
Whenever you decide to attend a meeting, make sure it has a clear agenda and ultimate goal.
Use Sembly Professional to get an AI-generated quick summary "Glance View" of the meeting with discussed topics and their key details. Share structured results of the meeting with your clients or team members who were not present at the meeting.
9. Don't shift your focus
You cannot submit work and participate in meetings without your entire attention. Too often, people multi-task and do not pay enough attention to the information they need to retain. This lack of focus leads employees to miss important points and deadlines.

Sometimes a lot of work is the main cause of loss of focus. You may even be trying to juggle multiple tasks, and while it may seem useful, multitasking is actually counterproductive and interferes with time management. Never miss an action item or an issue again with automatic item detection with Sembly.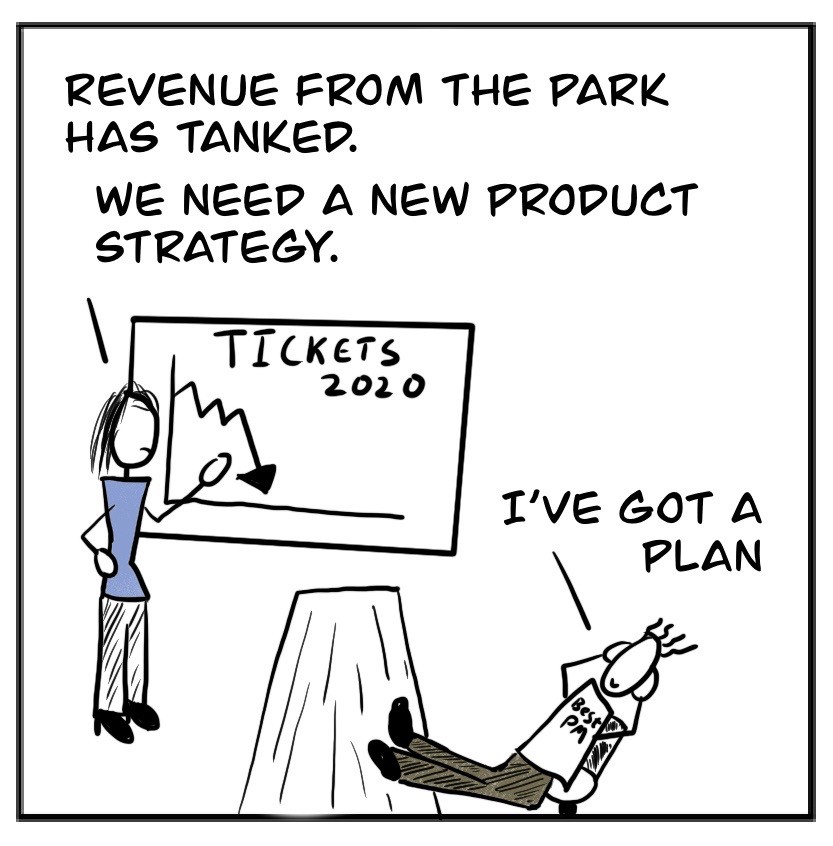 ---
10. Ability to concentrate is your superpower
Acknowledge your strengths and weaknesses. If you know you work best in the morning, take advantage of this skill. Plan to focus on the hardest or hardest part of your task at the most productive times. 
And always remember this: the ability to concentrate is like a habit. The more you do it, the better you will get at it. 
---