Introducing Moments, Sembly AI's (former Powow AI) innovative feature creating revolutionary post-meeting dialogue across the organization. With Moments, Powow enables small teams and large Enterprises to discuss the substance of meetings, even if not all parties were in attendance.
To date, teams communicate primarily in meetings and over collaboration chat tools (Microsoft Teams, Slack, etc.). If a team member can't make a meeting, the first message in the chat likely resembles: "How'd the meeting go? Did anything important happen?".
This process is inefficient – the meeting discussion is limited to only those in the room or on the line. To improve efficiency, the non-participant needs an opportunity to view the meeting content and start dialogue around specific statements.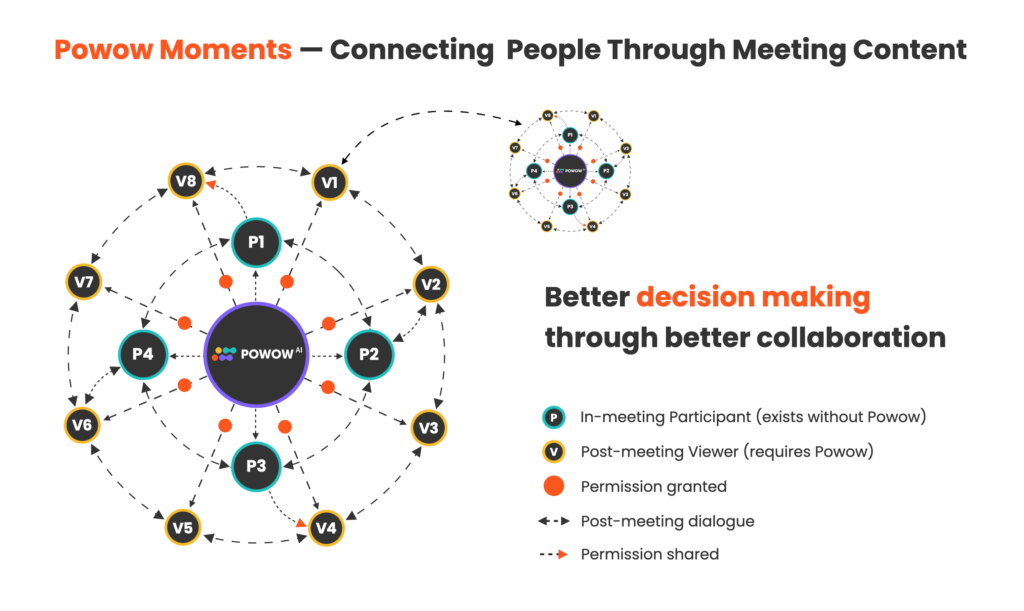 Moments does exactly that. Whether you are an in-meeting participant or a post-meeting viewer, you are now able to send a link in your native chat app to a team member directly connected to what was said in a meeting. Members of the team are able to share out across teams to further this collaboration, creating an expanding network of content and dialogue. Transparent post-meeting dialogue is the key to better, more collaborative communication which leads to improvements in decision making.
Moments – Example Use Case:
Missed meeting collaboration – As a manager, you can't make a meeting. At the end of your day, after the meeting is complete, you review the meeting and see a decision made in Powow but you disagree. Share the Powow Moment of the leading assumption in your MS Teams channel to better understand the decision making your team engaged in and to explain your thoughts.
Don't recreate the wheel – As a team member, your colleagues need to create a complex document. You know this will be time consuming and costly. Share this moment on your organization's Slack channel to see if other teams have already created this document, saving your team time and money.
Start post-meeting dialogue with all of the context at your fingertips. Use Moments to increase collaboration and make better decisions.